Hilton Head Island Pet Friendly Rentals
Why leave Fido at home? Bring him to vacation on Hilton Head with you. We know how important your dogs are to your family, so we've asked some of our owners to open their homes to families on vacation with small to medium dogs. Hilton Head Island has its own dog park. It is in the Chaplin Community Park, located just off William Hilton Parkway between Singleton Beach Road and Burke's Beach Road. The park is completely fenced and "double gated" so you will be able to let your dog off-leash as long as it's not aggressive towards people or other dogs. Hilton Head Island boasts several pet friendly restaurants (many even have a pet menu!) and just in case, there are plenty of Veterinarians who are available in the event of an emergency. Now the whole family can enjoy a fun-filled vacation on Hilton Head.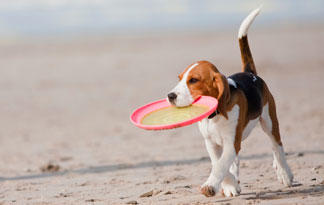 THE FOLLOWING ARE THE TOWN OF HILTON HEAD ISLAND'S RESTRICTIONS REGARDING ANIMALS ON THE BEACH:
Animals are not permitted - Between

10 a.m. and 5 p.m.

Friday before Memorial Day through Labor Day
Must be on a leash
- Between

10 a.m. and 5 p.m.

April 1

through

Thursday

before Memorial Day
- Between

10 a.m. and 5 p.m.

Tuesday

after Labor Day through

September 30

Must be on leash or under positive voice control at all other times
Persons in control of animals on the beach are required to remove and properly dispose of the animal's excrement.
Also please be a considerate guest and be sure and pick-up after your dog wherever you stay.
ADDITIONAL CHARGES:
Pet fees for all nightly/weekly reservations are $20/night/pet.

Monthly reservations: For monthly reservations, the guest will be charged $300/month/pet.
Pets: While some of our properties are "DOG Friendly", (we do not allow Cats, Rabbits, Guinea Pigs, Snakes, Birds, etc.) pets are not permitted in our homes or villas or on the premises - unless prior approval from agent. This policy will be STRICTLY ENFORCED. The Agent reserves the right to cancel your rental reservation and occupancy of rental with no refund plus charge $200.00 to treat the property for fleas.
To make sure that even Fido has a good time on Hilton Head Island, we have put together a list of local groomers, vets, and doggie day cares. Since pets are so well loved on Hilton Head Island, some restuarants are also dog-friendly and love when you bring the lil' pup along!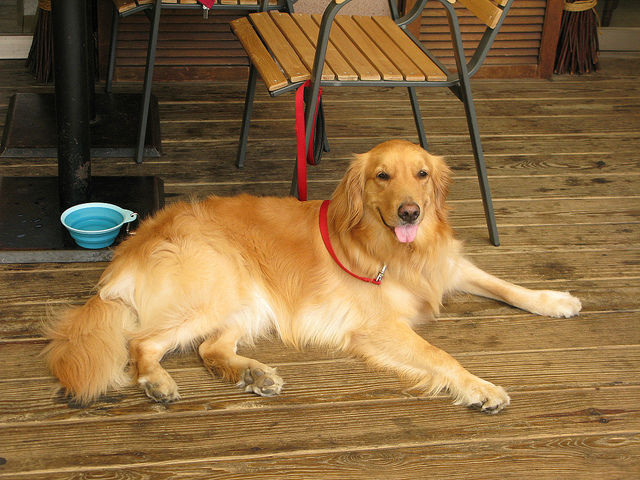 Dog Groomers
Red Rover 25 Bow Circle 843-671-9274
Isle of Paws 26 Palmetto Bay Rd #2 843-341-3647
Pretty Paws Pet Salon 21 Mathews Dr #10 843-342-5556
Veterinarians
Hilton Head Veterinary Clinic 109 Mathews Dr 843-681-2890
Heritage Animal Hospital 130 Arrow Rd #101 843-842-8331
Animal Care Clinic of Hilton Head 46 Old Wild Horse Rd 843-681-8882
Doggie Day Cares
All About Pets 12 Target Rd #2 843-842-7387
Evergreen Pet Lodge 105 Dillon Rd 843-681-8354
Red Rover 25 Bow Circle 843-671-9274
Pet Specialty Shops
All About Pets 12 Target Rd #2 843-842-7387
Tail Wiggles 1000 William Hilton Pkwy #E1 843-686-3707
Woof Gang Bakery 807 William Hilton Pkwy #100 843-681-9663
Restaurants That Allow Pets
Southern Coney 70 Pope Ave 843-689-2447
Black Marlin 86 Helmsman Way 843-785-4950
Captain Woody's 6 Target Rd 843-785-2400
Skull Creek Boathouse 397 Squire Pope Rd 843-681-3663
Main Street Cafe & Pub 1411 Main St 843-689-3999
Panera Bread 1012 William Hilton Pkwy 843-686-3838
Dog Park
Chaplin Community Park 11 Castnet Dr
Sort by: Random

Random

Name (ASC)

Beds (ASC)

Beds (DESC)

Sleeps (ASC)

Sleeps (DESC)

Price (DESC)
$2,338.00 - $10,367.00 Per Week

5 Beds
4 Baths
Sleeps 12
18 Views

$1,526.00 - $5,600.00 Per Week

5 Beds
5 Baths
Sleeps 12
19 Views

$1,113.00 - $3,766.00 Per Week

3 Beds
2 Baths
Sleeps 8
10 Views

$1,281.00 - $4,221.00 Per Week

3 Beds
3 Baths
Sleeps 8
11 Views

$784.00 - $2,429.00 Per Week

2 Beds
3 Baths
Sleeps 8
16 Views

$1,750.00 - $7,189.00 Per Week

4 Beds
2 Baths
Sleeps 12
41 Views

$882.00 - $3,136.00 Per Week

2 Beds
2 Baths
Sleeps 6
19 Views

$1,120.00 - $4,676.00 Per Week

4 Beds
2 Baths
Sleeps 12
12 Views

$588.00 - $2,100.00 Per Week

2 Beds
2 Baths
Sleeps 8
9 Views

$546.00 - $1,540.00 Per Week

2 Beds
2 Baths
Sleeps 6
8 Views

$553.00 - $1,491.00 Per Week

2 Beds
2 Baths
Sleeps 6
11 Views

$1,533.00 - $6,447.00 Per Week

4 Beds
4 Baths
Sleeps 12
13 Views